Happy Monday, Bookworms!
How was your weekend? Mine was lovely, especially considering I was NOT taken hostage during a swanky birthday party by an ill advised army of teenagers in an unnamed South American country. Obviously, things are going better for me than the characters in my latest read, Bel Canto
by Ann Patchett. This is one of those books I've been hearing about for a long time but took ages to get around to reading (well, listening to, in this case). Just another example of how I'll never ever get to all the excellent books worth reading in the world. Siiiiigh.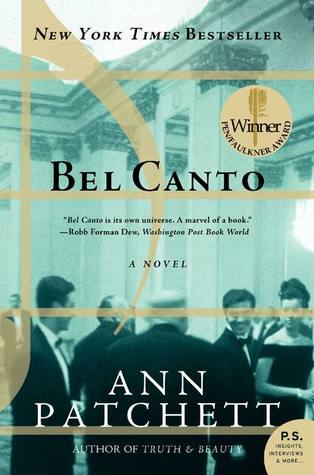 As I started saying earlier, this book takes place in an unnamed South American country. In an attempt to bring commerce to the blighted region, the government has arranged an elaborate birthday party for a Japanese business man in order to lure him into building a factory. The government has managed to land Roxane Coss, opera soprano of international acclaim, to perform for Mr. Hosokawa, a noted opera aficianado.
The party is crashed soon after Roxane's performance by a ragtag army of 18 terrorists consisting largely of impoverished teenagers. Their goal was to kidnap the president, but when it turns out he is not in attendance, they take the entire birthday party full of international dignitaries hostage. Improvisation is not their strong suit. As the relatively simple goal of the terrorists is complicated by unanticipated captives, the group's quick operation turns into a drawn out standoff.
You guyssssssssss. This book was really good. It sounds like a majorly insane downer, but it was fascinating! As time goes on, the hostages and the terrorists begin to bond in unexpected ways. It's not Stockholm Syndrome or anything, because nobody's been brainwashed, but it's awfully hard to spend a large amount of time with anyone and fail to see them as individuals. I mean, the terrorists aren't torturing or killing or maiming. They're just forcibly detaining… With varying levels of enthusiasm. If this has been on your radar in the history of ever, if you like opera, or if you just like excellent messy moral dilemma stories, check out Bel Canto
. 
Talk to me Bookworms! What is the WORST experience you've ever had at a party?
*If you make a purchase through a link on this site, I will receive a small commission.*