Howdy Bookworms,
It's been a while since I've made a Top Ten List for the Broke and the Bookish. This week's prompt is a freebie so I'm going to tell y'all a little about WHY I have been such a terrible blogger lately. I haven't been keeping up with anyone else's blog, I've barely been keeping up with writing mine, and I figure you all deserve to know the reasons. Even if they're terrible reasons.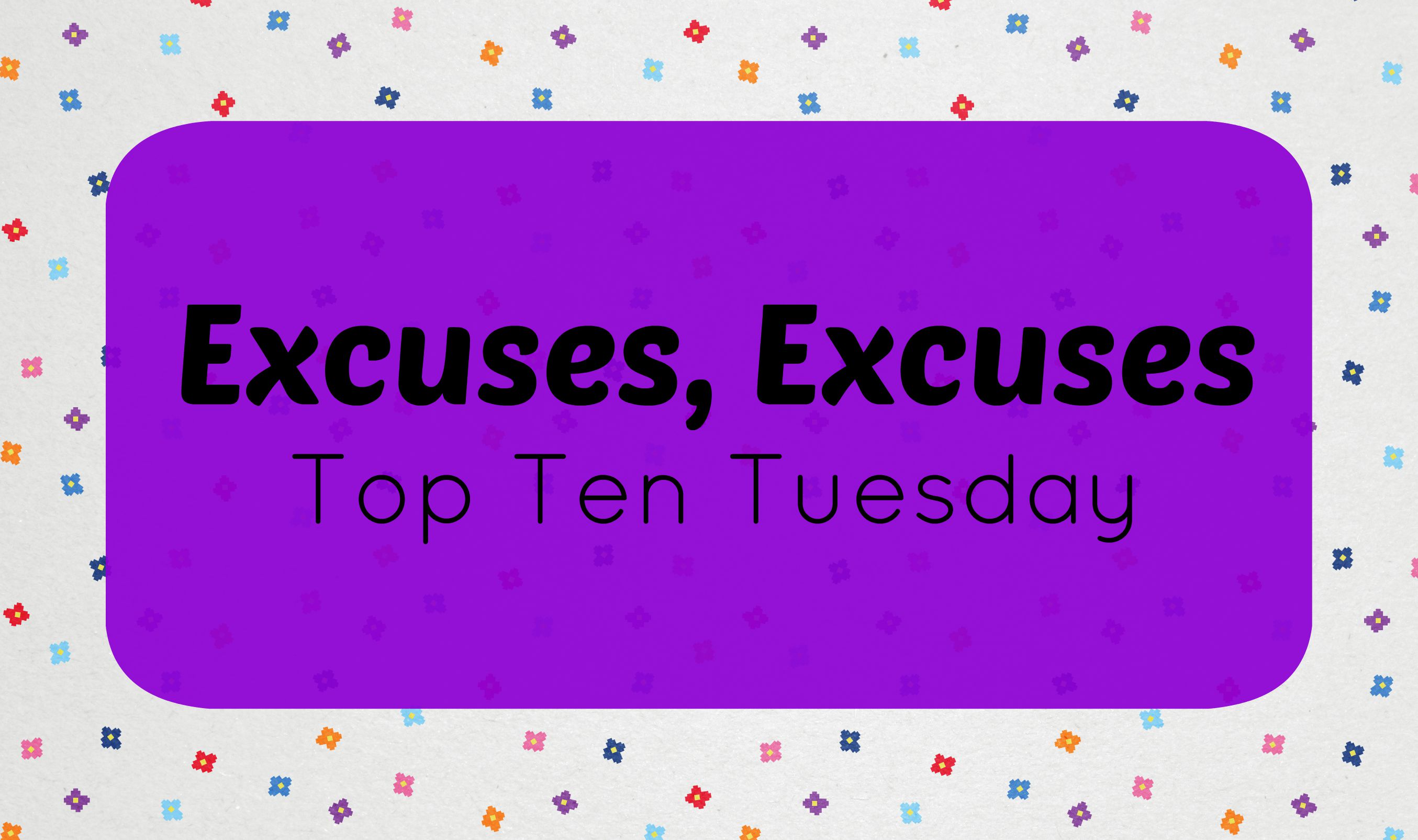 I'm extremely lazy. Sometimes I'd rather lie on the couch in a semi-comatose state and watch terrible television than read or blog.
Adult coloring. It's super fun, and when I think "I should treat myself to not blogging" it usually ends in me coloring for hours and hours during blogging time. It's addictive.
I've been pretty bummed out. For reasons. Of course, those reasons seem worse thanks to crappy brain chemistry. In any case, I keep cutting myself slack when I don't feel like doing anything, which is a bad idea because doing nothing always makes me feel much worse. R&R is apparently not the cure for what ails me. (Seriously, don't worry. This too shall pass.)
I've been exercising a lot. It's is a good and healthy thing to do, especially for the chronic mopeys. However, by the time I get home from work and the gym and shower and eat it's kind of late. Then coloring happens.
Hair bows. My Sister-in-Law and Brother-in-Law just had a baby girl. I was feeling crafty, and now I'm obsessed with Pinterest and ribbons and hot glue. I don't even know myself anymore. Crafting? ME?!
YouTube. My husband has become obsessed with watching The Tim Tracker. They're a husband and wife daily vlogging team who live in Orlando. They go to theme parks a ton which we love because Disney World and Universal are made of magic. They also have two really cute dogs and have somehow managed to make dull daily chores entertaining. Plus, Tim has the jauntiest mustache in the history of ever. They're like imaginary friends, who are real, only we don't know them and they have no idea we exist. Hi Tim and Jenn! We love you in the least creepy way!
Work. It's busy there.
That's it, you only get 7 excuses. Par for the course, really. At least you know what I've been doing while being a half-assed blogger. Sorry, y'all. You deserve better. I'll try harder, really I will.
Tell me something, bookworms. What's the best excuse you've ever used for being unproductive?