Good Day Bookworms,
It's always a good day when you've got an audio book to hand, I think. I don't typically read/listen to a whole lot of YA literature, but several years ago I read Speak
by Laurie Halse Anderson and it was intense and amazing and fabulous. When I saw that another of her books was on sale via Audible, I snatched it up. Good books, good deals: my vices are few but powerful. And thus, I embarked on my listening journey with The Impossible Knife of Memory
.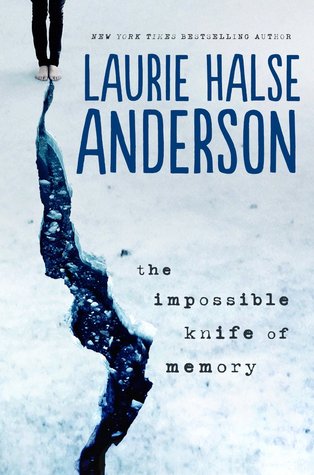 Ooooh you guys. Laurie Halse Anderson doesn't shy away from the tough stuff, no siree. The Impossible Knife of Memory
 tells Hayley Kincain's story. She's a teenage girl living alone with her father, an Iraq war veteran suffering from PTSD. They've been on the road the last few years, trucking and home schooling, when Andy (AKA Dad) decides they ought to settle down in his hometown so that Hayley can have a more "normal" life.
Hayley's transition into "normal" isn't without some bumps in the road, though she does meet a hottie named Finn who has his own bag o' secrets. Because, you know. It's not enough to be a teenager and deal with hormones and school and boys. Dealing with the fallout from major psychological trauma on top of all that? It's enough to make me want to jump through the pages and give the girl a hug!
Thank heaven for Laurie Halse Anderson. I mean, YA literature needs voices that tackle life's difficult issues. It's not that I don't love me some YA dystopian novels, but someone's got to talk about REAL things. Katniss rocks, but realistically? Nobody's putting kids in an arena and making them fight to the death. However, there are a lot of REAL veterans out there that are REALLY struggling and a lot of them have REAL families. A book like this can do actual good. Teens going through similar challenges will read it and feel less alone. Teens who aren't will gain some empathy. Plus, teens reading books? Yep. That right there is a win-win-win situation.
Talk to me Bookworms. Are any of you big into the YA scene? Are there more authors who take on these types of topics, or shall I simply crown Laurie Halse Anderson the queen of awesome? 
*If you make a purchase through a link on this site, I will receive a small commission.*