Bonjour Bookworms,
Sometimes songs get stuck in my head and it's a book's fault. Occasionally, it's because a song is mentioned in a book. Sometimes it's because the song and the book just go together. Sometimes it's because they share a title. I probably should have been kind of suspicious of Elizabeth Berg's new novel, The Dream Lover
, when it succeeded in getting a Mariah Carey tune stuck in my head. My 10 year old self didn't make up a dance routine to "Dreamlover" or anything. That would definitely did not happen… *I received a complimentary copy of this book from the publisher through NetGalley for review consideration. I pledge on my right to wear pants that the following opinions are uninfluenced by the fact that I didn't have to purchase this book.*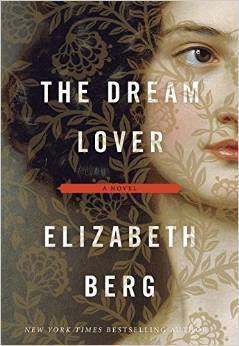 The Dream Lover is about scandalous 19th century novelist George Sand. She not only took on a man's name for her nom de plume (rather a fad in those days. Just ask the Bronte sisters… Erm… "Bell" "brothers") but she also dressed like a man and had extra marital affairs while hobnobbing with Paris's intellectual elite. As one does. The most famous female writer of her time, Sand had an impressive list of friends and lovers including Frederic Chopin, Gustave Flaubert, Franz Liszt, Eugene Delacroix, Victor Hugo, Elizabeth Barrett Browning, and probably all the other famous writers, actors, artists, and musicians in Europe at the time. She was terribly popular. Salons, you know. And not the kind in which I have my hair dyed. The fancy kind with the thinking and the art and the discourse. Elizabeth Berg takes on Sand's story from a first person perspective and tackles love, family, loneliness, and companionship.
This book sounded like it would be everything I loved. Ladies succeeding in a man's world? Celebrity name dropping? Historical fiction? Cross dressing? It seemed like the perfect book for me. Until it wasn't. I'll admit I wasn't at all familiar with George Sand's story and I've not read any of her work (though I totally dig the work of some of her pals.) I think, for me, things went badly because it was written in the first person. It got very introspective, which is incredibly difficult to pull off when you're writing about a historical figure. I found the life of George Sand fascinating, but I think I would have enjoyed reading about it more as non-fiction. (I know! Who is writing this, and what have you done with Katie, right?!) I struggled getting into this book and never really hit a stride. To be completely honest, I very nearly didn't bother finishing the thing. I managed to finish (because DNF guilt), but I'm afraid The Dream Lover simply wasn't the book for me. Just because the book wasn't a winner for me, though, doesn't mean it won't be for you, my darlings. If you are a big fan of George Sand, introspection, and 19th century-esque prose, run, do not walk, and check out The Dream Lover.
Tell me something, Bookworms. At what point do you  give up on reading a book that isn't ringing your bells? If I've made it to the halfway point I try my darnedest to finish it, but I'd like to know how long y'all give it before throwing in the towel.
*If you make a purchase through a link on this site, I will receive a small commission.*