Salutations, Bookworms!
In case you hadn't already seen it EVERYWHERE, Hausfrau
by Jill Alexander Essbaum is the new "IT" book. I'm not great at being "in the know" but sometimes news even reaches under my personal rock. I'm going to try to keep this post spoiler-free, but if you've read Hausfrau and want to discuss all the dirty details, head over to The Socratic Salon and check out their fabulous discussion. *I received a complimentary copy of this book from the publisher through NetGalley for review consideration.*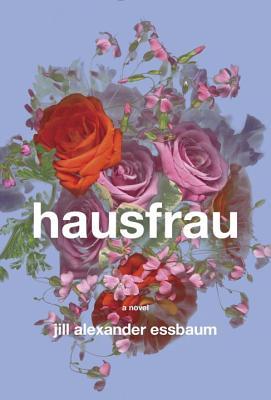 Anna Benz is an American woman living in the suburbs of Zurich, Switzerland. She and her husband Bruno are raising three children, and Anna is a stay-at-home parent. Beneath the veneer of their picture perfect family, Anna is struggling. As an expatriate with a very limited command of the local language, Anna finds herself isolated and lonely. When Anna finds her German language classes and psychotherapy unfulfilling, she falls into a series of extra-marital affairs. Anna's life spins utterly out of control and chaos ensues.
You know the opening credits of Mad Men, where this cartoon dude is just free falling and there's nothing around to catch him? That's kind of what Hausfrau
 reminded me of. Holy crap, Anna. This book has been compared to a lot of your typical classic tales of philandering women (Madame Bovary
, Anna Karenina
, The Awakening
, A Doll's House
, etc.) but because it's set in the present, it adds a new element. Yes, Anna is depressed. Yes, she's isolated and living in a foreign country. Yes, she (sort of) loves her husband. But unlike the heroines of these classic novels, Anna has options. I mean, divorce is totally a thing that can happen nowadays when marriages are as miserable as Anna and Bruno's. I think that's what makes her so fascinating. She's not really a victim of circumstance, she's a victim of her own passivity. There is so much complex and meaty commentary on the human condition in this book that it would make phenomenal book club fodder. I mean, as long as you don't mind arguing, because Anna is one polarizing lady.
I don't normally discuss prose or writing style because I don't feel qualified to do so, but Essbaum does some gorgeous work with her words. Maybe it's her background in poetry, but homegirl can turn a phrase, y'all. I also usually don't mention when a book contains a lot of sexy-times, because when I'm usually talking about a romance when such things come up and it's pretty much expected there. This is one of the, um, naked-est pieces of literary fiction I've encountered in a while, so if that sort of thing really bugs you, this might not be the book for you. However, if you're looking for an awesome and fiery book club discussion or just a lot of moral dilemma brain chewing, Hausfrau delivers.
Talk to me, Bookworms. Are you the sort of person who enjoys a lively debate in book club discussion?
*If you make a purchase through a link on this site, I will receive a small commission.*