Salutations, Bookworms!
Last month I read Charlie Lovett's First Impressions
(review) and it reminded me that I still had one lonely unread novel to complete the Austen canon. I decided it was TIME. Time to visit Mansfield Park
! Since I had such a stellar experience with the audio version of Northanger Abbey
(review) I decided to try Mansfield Park on for size aurally. (Spoiler Alert: That was an excellent idea.)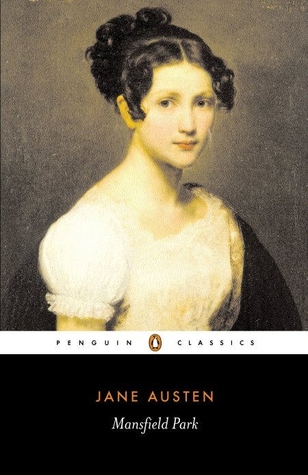 I don't typically take a lot of notes while I read, but this time I did and I'm going to give them to you (mostly) unfiltered, because, well, I think my note-writing self is funnier than my right-this-second self. Before we get there though, a synopsis. It's early 19th Century England, and therein live three sisters. One marries rich, one marries poor, and one marries intermediately. The rich one is completely indolent, but has some kids. Because she's rich, she doesn't really have to do anything what with all the servants and governesses and such. The poor one had 8 zillion kids and is extra super poor as a result. She's probably too busy with her 8 zillion kids to notice she's broke. The intermediate one is childless and annoyed that she's not richer, so she spends most of her time being horrible and sticking her face in other people's business (that's Mrs. Norris. More about her later.) Intermediate sister decides that rich sister should take in one of poor sister's kids because she wants to appear charitable without actually having to do anything. Fanny Price is thus fostered to rich sister and her family, wherein she falls totally in love with her cousin (which would be gross, but it was once a totally acceptable thing so I'm trying not to judge.) Anyway. The cousin is rich, older, and a catch, so Fanny's chances are crap. A lovelorn little Cinderella, our Fanny Price. And now for my reactions…
1. I like Mrs. Norris about as much as I like Filch's cat. Which is to say, of course, not at all. I wouldn't mind seeing this shrew petrified. SHE JUST KEEPS GETTING WORSE! Wicked, onerous woman!
2. I'm loving audio books for Austen. I think the aristocratic accents add to the experience.
3. Mr. Rushworth's obsession with height is cracking me up! "Mr. Crawford is so short. Short shorty short short. Who cares if I'm incredibly dull? At least I'm tall!"
4. Crawford is a SCOUNDREL, what with his flirting with Maria and then trying to bewitch Fanny for sport. Pfft! (He only gets worse, BTW.) Interestingly, his name does not start with a 'W' like Wickham and Willoughby. There goes my theory about Jane having her heart broken by a dude with a 'W' name.
5. Fanny is rather Cinderella-ish. Not quite, but almost. She'd need some singing forest creatures and fewer actual maids to really make it work.
 Yes. That just happened. I managed to compare a woman to a caretaker's cat and wish good riddance to them both. I don't know about you, but that seems like a fine day's work to me. Tell me something, bookworms. Do you ever take notes while you read? 
*If you make a purchase through a link on this site, I will receive a small commission.*