G'day Bookworms!
It's Tuesday again and today I've got an especially fun list to treat you with. The ladies of The Broke and the Bookish have challenged us to list places we'd like to visit (fictional or otherwise) because books got us utterly hooked on the locales. Pack your bags, Bookworms, we're going on an adventure! (My photoshop skills suuuuuuuck. But you're welcome.)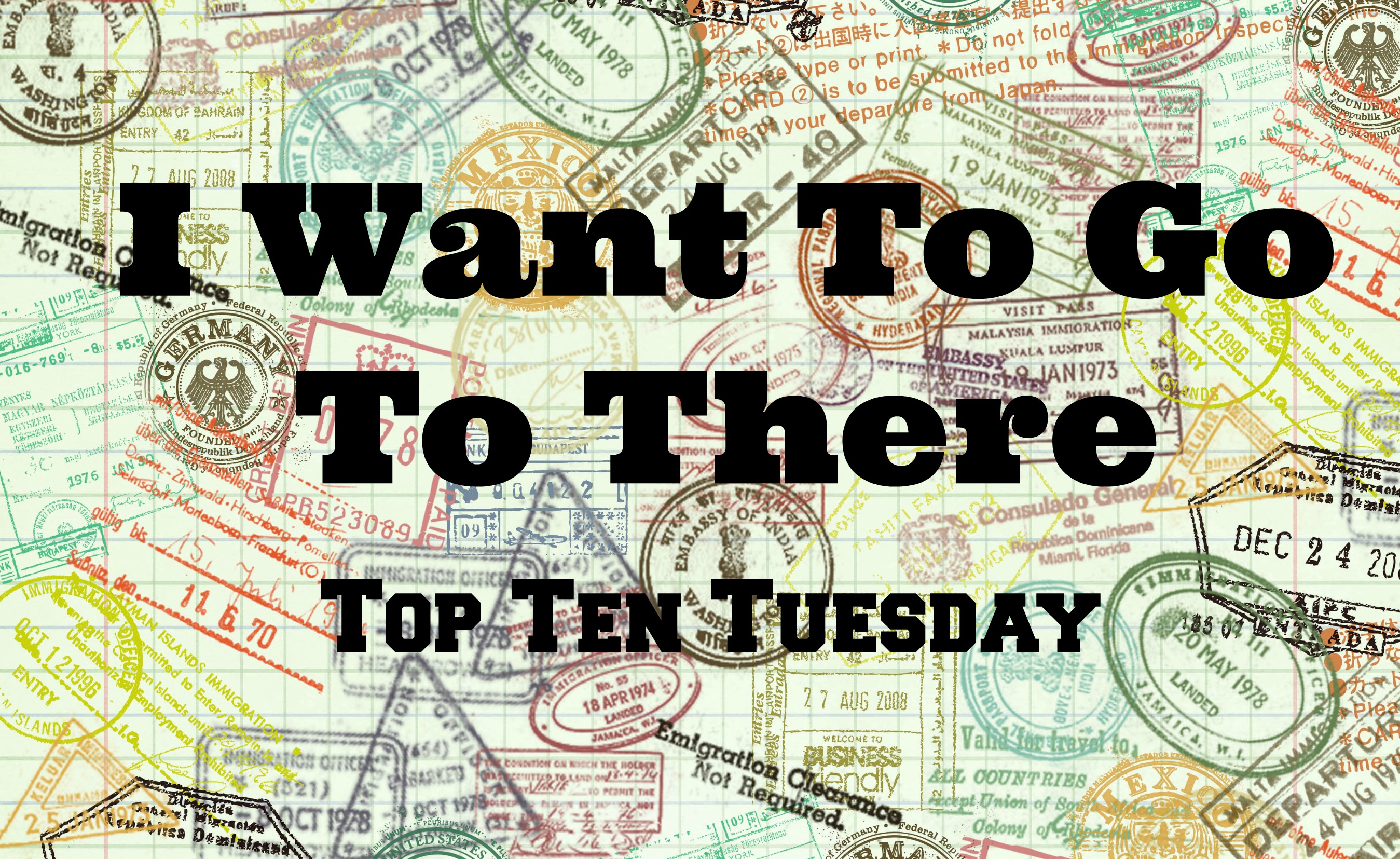 1. Hogwarts from The Harry Potter Series
by JK Rowling- located somewhere in Scotland (more on this later), the school of Witchcraft and Wizardry is where I feel I belong. I'd be a Ravenclaw and spend my time solving riddles and chatting up the Grey Lady. Pass the pumpkin juice, would you?
2. Elmwood Springs, MO from Can't Wait to Get to Heaven
 (and others) by Fannie Flagg- Ooooh Fannie Flagg! She created the sweetest small town in the history of EVER in Elmwood Springs, Missouri. It's practically Stars Hollow, only, you know, south.
3. Neverland from Peter and Wendy
by JM Barrie (review)- Oh I'd go to Neverland alright. And I'd join the dang pirates because Peter Pan is actually a complete jerk. Wendy stays home and does housekeeping and goes on approximately ZERO adventures. Ugh.
4. Mary Poppins' chalk painting from Mary Poppins
by PL Travers (review)- The movie version of this scene is significantly more whimsical, but I'd accept the book version gladly as well. A jolly holiday indeed!
5. Wonderland from Alice's Adventures in Wonderland & Through the Looking-Glass
by Lewis Carroll- I have but one goal in mind. I want to attend a tea party with the Mad Hatter and the March Hare. I have every intention of avoiding any and all royalty.
6. Oz from The Wonderful Wizard of Oz
by Frank L Baum- So there's a lot of upheaval and chaos and craziness, but I wouldn't mind a jaunty trip down the Yellow Brick Road.
7. Scotland- I want to go to Scotland and it's all Diana Gabaldon's fault! It's the only non-fictional locale on my list, but ooooh I want to visit so badly! On a short study abroad to London in college, I tasted Irn Bru and didn't hate it. AND, because I'm a nutcase I've been re-listening to the Outlander
books on audio, so my inner monologue currently sports a Scottish brogue. I would like to see all the things and frolic through the heather. Frolicking rules. (Alright so maybe it's not ALL Diana Gabaldon's fault… I was in a production of Brigadoon in high school, too. My travel dreams are swathed in tartan plaid.)
Talk to me, Bookworms! Where have you wanted to travel, thanks to a book? 
*If you make a purchase through a link on this site, I will receive a small commission.*