Good Day Bookworms!
It's time again for one of my FAVORITE monthly memes, Six Degrees of Separation hosted by Annabel Smith and Emma Chapman. They choose a book as a starting point, and then we create a chain of books connecting them in any old way we please. Seriously. I once connected two books using yogurt. It's awesome. This month I'm happy to announce that I have indeed read the starting point book, The Goldfinch
by Donna Tartt (review). Ready set? Let's do this!
1. Les Misérables
 by Victor Hugo: Ooooh yes. I went there. Boris was my favorite character in The Goldfinch
 and seriously, if he had been born in 19th Century Paris, he would have been Gavroche! Gavroche was, no surprises here, my favorite character in  Les Misérables. I love a plucky street urchin.
2. Gone with the Wind
 by Margaret Mitchell (review): I'm switching gears from Paris to Georgia here. Two sweeping epics full of political unrest and corsets? They didn't specifically mention any hoop skirts in Les Misérables, but I've got my suspicions. And did you see Samantha Barks's teeeeeeeeeny tiny waist in the movie version of Les Misérables? You know there were corsets all up in there. How could I not connect these two?
3. Abraham Lincoln: Vampire Hunter
by Seth Grahame-Smith: Sometimes I get cheeky, and "sometimes" is now. Clearly I'm connecting Gone with the Wind to Abraham Lincoln: Vampire Hunter through the American Civil War. They're both fiction… The latter is just a bit less realistic. (Spoiler Alert: Vampires aren't real. I'd have been eaten by now, if my attractiveness to blood sucking insects is any indication.)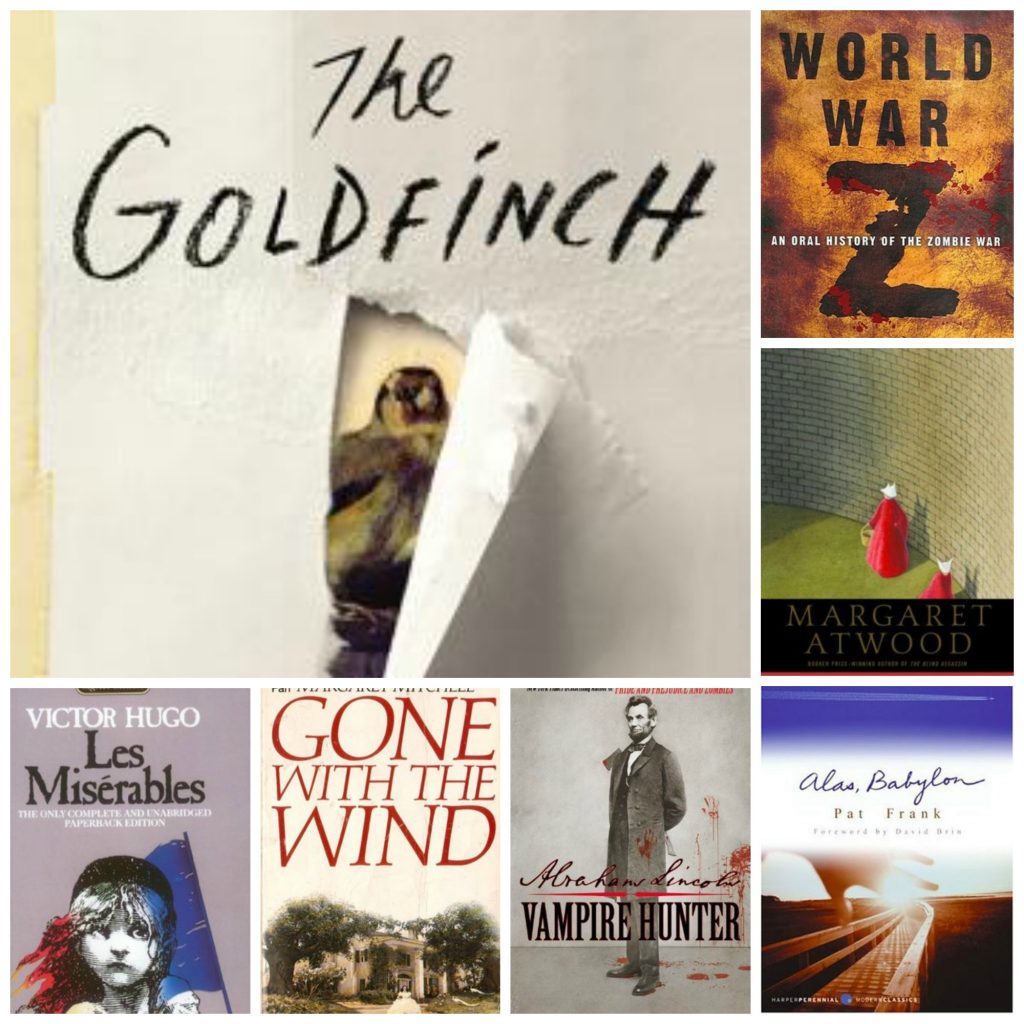 4. World War Z
by Max Brooks (review): Vampires are mythological creatures that feed on humans, zombies are mythological creatures that feed on humans. It works.
5. Alas, Babylon
by Pat Frank (review): A zombie apocalypse will bring about the end of the world as we know it just as easily as nuclear war will. Of course, nuclear war is ACTUALLY a thing that could happen, so it's even scarier…
6. The Handmaid's Tale
by Margaret Atwood (review): Speaking of terrifying potential dystopian scenarios can we TALK about The Handmaid's Tale
?! Women sold and used as breeding stock? Women forbidden to read? Worst nightmare, much?
There we have it! The Goldfinch
 to The Handmaid's Tale in six easy steps… Including pit stops for corsets, vampires, and zombies. So much fun! Alright Bookworms, tell me something. What book would YOU link to The Goldfinch
? 
*If you make a purchase through a link on this site, I will receive a small commission.*