G'Day Bookworms!
Have I ever told you how I spent my teen years obsessed with Australia? True story. I had not one, not two, but THREE famous Australian "boyfriends." There was my Australian Rockstar Boyfriend (Daniel Johns, lead singer of Silverchair), my Australian Actor Boyfriend (Heath Ledger, may he rest in peace), my Australian Swimmer Boyfriend (Ian Thorpe, Olympic Gold Medalist. The Sydney Olympics happened at the start of my senior year, I typically don't watch sports that don't involve intentional back flips.) Why am I telling you this? My latest read encompassed two of my greatest loves, Australia and Jojo Moyes! When I saw that Jojo Moyes had a new title available on Netgalley, I simply HAD to have it. You'll recall how much I loved Me Before You (review) and The Girl You Left Behind (review), so really, it was a match made in heaven Australia. *I received a complimentary copy of this book for review from the publisher through Netgalley. My good opinion cannot be bought with a book. It MIGHT be bought with a trip to Australia… Just saying.*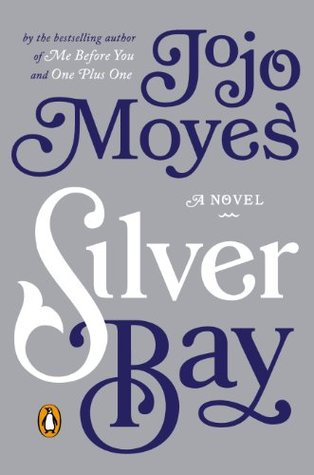 Silver Bay tells the story of the residents of a sleepy town in Australia, called (shocker) Silver Bay. 76 year old Kathleen runs a ramshackle hotel with her niece Liza and Liza's daughter Hannah. Their major source of income is eco-tourism, as Silver Bay is famous for whale and dolphin watching expeditions. It's not a glamorous existence, and everyone has their baggage, but mostly the residents of Silver Bay have been living there uninjured.
Mike Dormer is a high powered real estate developer in London. His company is working on a luxury resort, and he's sent on a scouting mission to Silver Bay. Mike's development poses a serious threat to the Silver Bay's under-the-radar status, to say nothing of its potential disruption of the whale and dolphin watching industry. Drama ensues!
One of my favorite things about Moyes's writing is the way she draws her characters. She gives them so much depth. The major sympathetic characters are flawed, the less sympathetic characters have glimmers of humanity. I was drawn into Silver Bay and didn't want to leave. You don't have to love Australia to enjoy Silver Bay, but I challenge you to read Silver Bay and not fall in love with Jojo Moyes.
Tell me, Bookworms. Do any of you have an obsession with an exotic (or not so exotic) locale? I can't be alone in this, can I?
*If you make a purchase through a link on this site, I will receive a small commission.*