Howdy Bookworms!
It's Tuesday again, which is mind boggling, because seriously, where does the time go? This week the ladies of The Broke and the Bookish have challenged us to make a list "for fans of." IE, if you like a certain TV show, here's a bunch of books you might dig… So OF COURSE I went with one of my favorite shows EVER, The Walking Dead
. Because ZOMBIES!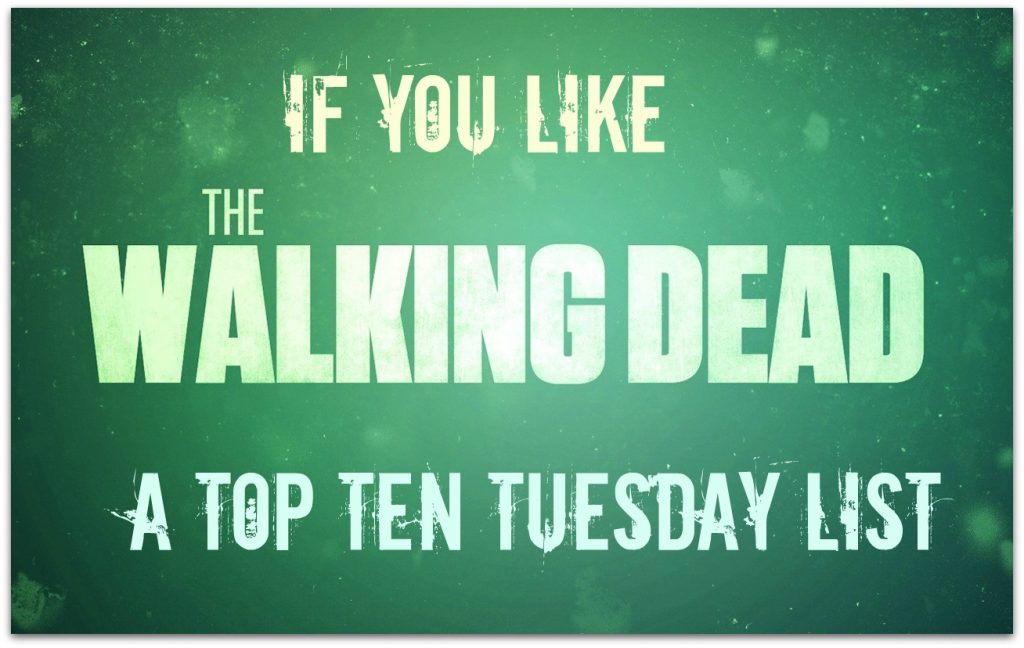 1. The Walking Dead
Comics by Robert Kirkman: It is 100 percent hypocritical of me to list this as I've not read them myself. BUT. I want to. And I hope to. And you should join me.
2. The Newsflesh Trilogy
 by Mira Grant:  I loved these sooooo much! Feed
 (review), Blackout 
(review), and Deadline
 (review) presented such a creative take on the whole zombie genre that I was hooked from the very beginning. Plus, all the internet and bloggy goodness made it extra super appealing. And science. SCIENCE. Just read them, okay?
3. Warm Bodies
by Isaac Marion: I may have spoken too soon when I talked about a unique take on zombie lore, because Warm Bodies
 (review) is definitely off the zombie shuffled path. It's a light-hearted, quirky little romance starring a dead guy. Seriously so much fun. Check it out!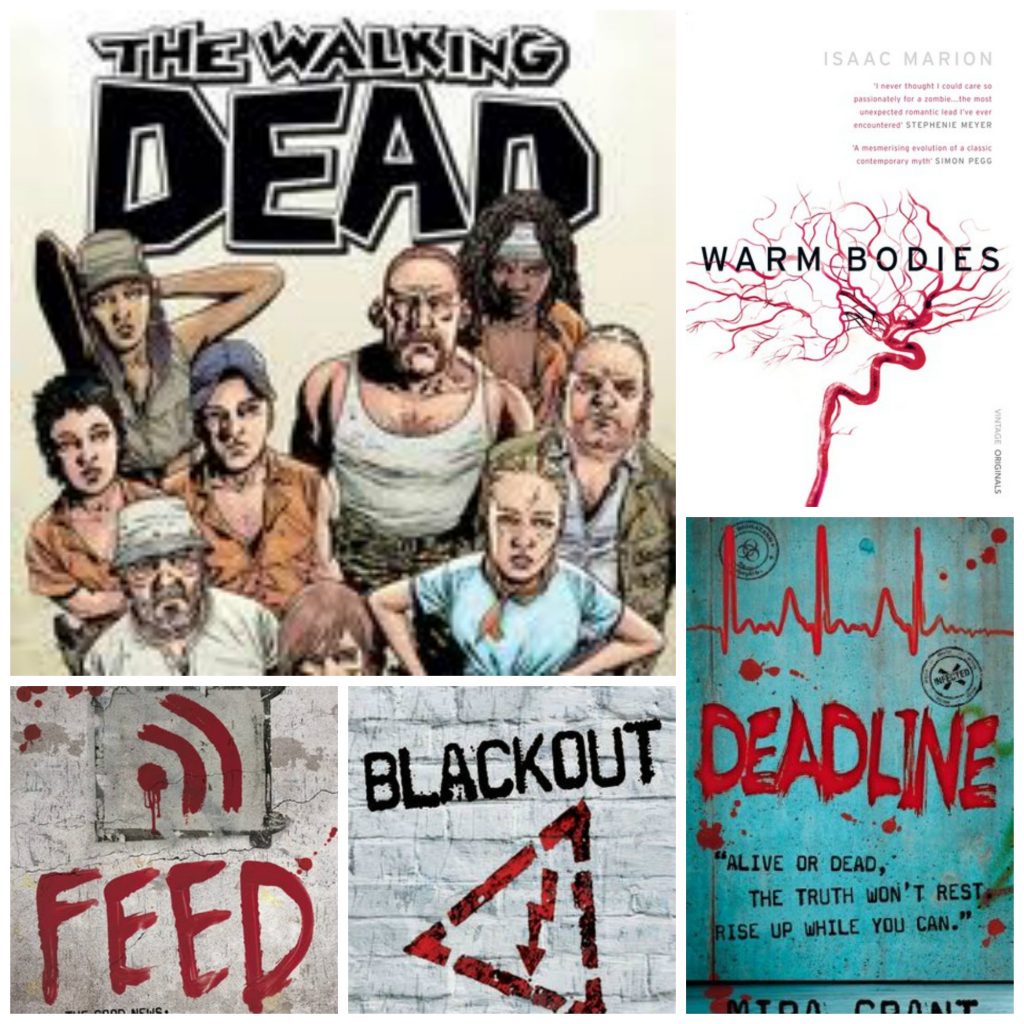 4. World War Z
by Max Brooks: I read this when I was going through my first round of withdrawal while  The Walking Dead was on hiatus, and it did not disappoint. I had a lot of nightmares while reading this, but it was totally worth it. I make nightmare exceptions when it comes to zombies. (review)
5. The Road
by Cormac McCarthy: There are no zombies to be had in this book, but the humans are bad enough to make up for the lack of supernatural monsters. The bleakest post-apocalyptic view of the world I've ever read. If this doesn't creep you out, I don't know what will. It's pretty fantastic. (review)
6. Alas, Babylon 
by Pat Frank: Aside from the gore and special effects elements on The Walking Dead, what's always really pulled me in is the way it looks at humanity once the thin veneer of civility is rubbed away. Any disaster scenario would suffice for that sort of insight, and nuclear war is certainly one way to destroy civilization. I really enjoyed Pat Frank's vision of nuclear war's aftermath in Alas, Babylon
. (review)
7. The Stand
by Stephen King: Again, no zombies here, but there's contagion for sure! Captain Tripps the super flu has successfully killed off most of the world's population leaving the survivors to fend for themselves. No modern conveniences and a mysterious supernatural undertone makes this book something amazing. (review)
8. The Passage
by Justin Cronin: This book created a whole new breed of monster. Sort of vamire-ish, sort of zombie-ish, this government experiment gone wrong successfully brought about an apocalypse. Watching the survivors fight to maintain something approaching a "normal" way of life is haunting and awesome. (review)
9. I Am Legend  by Richard Matheson: Similar to The Passage, though much older, I Am Legend  twists zombie and vampire lore into a new breed of terror. The last man on earth tries to take a stand against the encroaching new race of vampires- it's epic. (review)
10. The Walking Dead: Rise of the Governor
by Robert Kirkman and Jay Bonasinga: I'd be remiss if I didn't mention that the creators of The Walking Dead
  comics have written some novels that dovetail with the comics (for those of us who don't typically go in for comic books, presumably.) I read the first in this trilogy and found it to be a great companion read for anyone in the fandom. (review)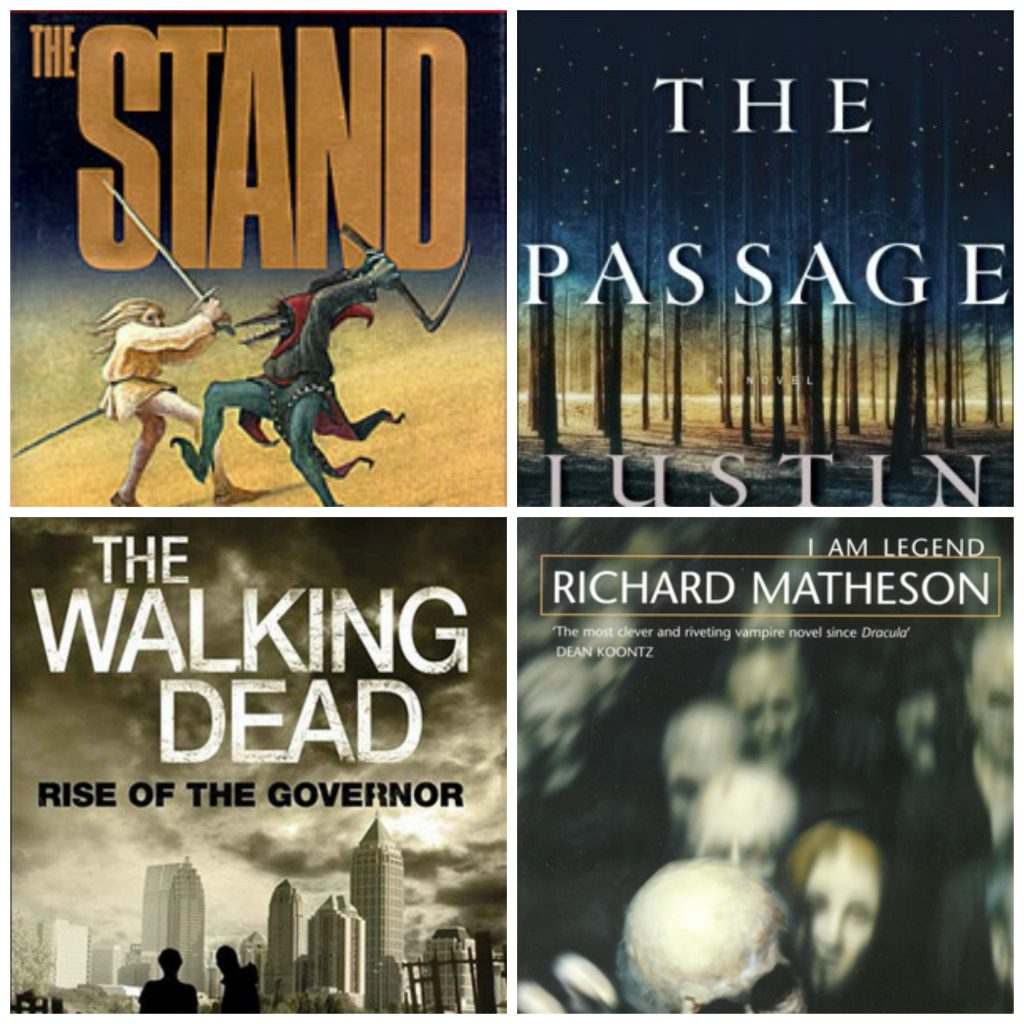 There you have it. ZOMBIES a la Katie. Do any of you Bookworms like The Walking Dead, and how much do you hate the long hiatus?!
*If you make a purchase through a link on this site, I will make a small commission.*