Bonjour Bookworms,
Let's talk about art. I'm not going to pretend that I understand much art, but I do have a soft spot for the French Impressionists. I got a calendar at the dollar store when I was like 10 and I was all "oooooh pretty!" I've been a sucker for Impressionism ever since. I have two Monet poster prints hanging in my office at work. What can I say? I'm a fan. When I saw that I Always Loved You
by Robin Oliveira got all up in the inner circle of the French Impressionists, I JUMPED at the chance to read it.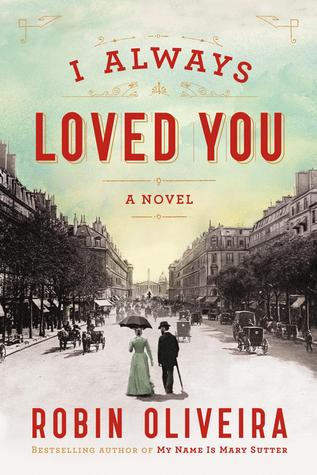 Full Disclosure: I received a complimentary copy of this book through NetGalley in exchange for an honest review. The fact that I've been staring at Monet daily for for years to psych myself up was just a bonus.
I Always Loved You
 focuses on a young Mary Cassatt. She moved to Paris after the American Civil War in order to focus on her painting, but after 10 years she's feeling disenchanted. Just as she's about to throw in the towel and moved back into Pennsylvania when she's introduced to the enigmatic Edgar Degas and his band of misfit painter pals.
Renoir and Manet and Monet, oh my! All the household French Impressionist names are represented in this book with all the behind the scenes glory that only historical fiction can provide. Mary Cassatt is one of the less familiar names among the Impressionist crew, so it was really cool to get a better idea of what she was all about. Heck, I never realized she was an American, given that she is always listed in tandem with the French masters.
I Always Loved You
also provided me with a lovely parallel. One of the books I really dug last year was The Painted Girls
by Cathy Marie Buchanan (my review). That novel focused on the life of the model for one of Degas' most famous works, Little Dancer of Fourteen Years. This novel offered a little peak into Degas' perspective while working on the sculpture, and it was wonderful. These books compliment each other beautifully.
 Tell me Bookworms. Have you ever met two books that just sort of belong together? 
*If you choose to make a purchase through a link on this site, I will receive a small commission.*