Greetings Bookworms,
You know how much I love a good list. I participate in Top Ten Tuesday (hosted by The Broke and the Bookish) regularly. Sometimes, though, I find myself stifled by their topics. In order to keep the meme going, they have to issue very broad topics as prompts so that all sorts of book bloggers can participate. A lot of the lists that percolate in my head don't fit into such broad topics, nor are they anything anybody else would be interested in writing about… So, I've decided to put together my own little feature here at Words for Worms. Idiosyncratic Lit Lists will now pop up whenever I'm feeling listy and/or weird. I hope you enjoy reading them as much as I enjoy compiling them!
I was having a conversation with a friend recently that devolved into a discussion of books, as often happens. While in the midst of said discussion, it occurred to me that I'd read an awful lot of books wherein major characters have lost all or part of their arms. The idea demanded attention, and so I give you a literal farewell to arms: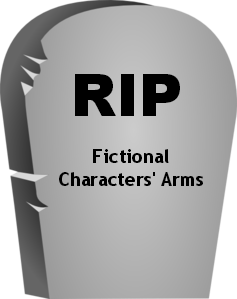 1. Buddy Junior from Fried Green Tomatoes at the Whistle Stop Cafe
by Fannie Flagg. Buddy Junior was begin raised by his mother Ruth and her BFF Idgie in Depression-era Alabama, happy as could be… Until the day he had an unfortunate run-in with the train. Buddy's arm was the only one in this list to have a proper funeral, and he would go on to be known as "Stump."
2. Mattie Ross in True Grit
by Charles Portis. I should probably issue a spoiler alert here, but Mattie's arm loss happens at the bitter end of the novel, so it doesn't wreck any critical surprises. Rattlesnakes are jerks y'all. (My Review)
3. Dana in Kindred
by Octavia Butler. At the very beginning of the book, we meet Dana in her hospital room, missing an arm. Apparently it's a really bad idea to have someone holding on to your arm while you hurtle through the vortex of time and space. It might just get stuck there. (My Review)
4. Fergus in Voyager (Outlander)
by Diana Gabaldon. I know, I know. Fergus only lost a HAND, not an entire arm, but I'm counting it anyway. Everybody's favorite former French brothel dweller takes one for the team to protect Jamie from a roving band of English dragoons. On the up side, the hook he gets in place of the hand has a very debonair rakish sort of appeal to it.
5. Orry Main in North and South
by John Jakes. All Orry ever wanted to do was be a professional soldier. He makes it through West Point and goes on to face his first real battle in the Mexican-American War… At which point he promptly has his arm blown off. As it's awfully hard to fire a musket one-handed, Orry is honorably discharged from the military. Sadly, it turns out medals of honor are poor substitutes for appendages.
 Alright Bookworms. You are a well-read bunch. Are there cool fictional characters out there running around without arms that I've missed? 
*Any purchases made through links on this site will net me a small commission. Your support is appreciated.*