Hola Bookworms,
Today is another Tuesday, and another GLORIOUS list, the topic of which was provided by The Broke and The Bookish. Today's topic is to list out books that deal with difficult subject matter, and the ones I'm choosing are all kind of a downer. That doesn't mean they aren't BRILLIANT books, because they are. It just means that they're emotionally draining, so, you know, don't read them all in a row.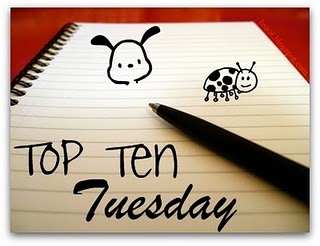 1. Speak by Laurie Halse Anderson. This book is amazing, but such a tough read. Speak is about a girl entering high school. She is date raped at a party, and while she calls the police to break up the party, she can't bring herself to tell the authorities what happened to her. She starts her high school career as the narc who ruined the best party of the summer all while dealing with the emotional hurricane of attending school with her rapist. It's a rough read, but really worth it. I highly recommend it.
2. The Color Purple by Alice Walker. Race and incest and violent relationships and homosexuality and secrets and lies and children and turning gender roles upside down… It's pretty amazing. It's exceptionally powerful because it's written in an epistolary format in a regional dialect. Try to get through it without crying. I dare you.
3. Room by Emma Donoghue. This choice seems even more appropriate now given the news coming out of Cleveland of the three women held captive in a home for a decade. Room is about a young woman who is abducted from her college campus parking lot. She is locked in an inescapable sound-proof shed and regularly raped by her captor. Eventually these systematic rapes result in a successful pregnancy and she raises her little boy, Jack, in this shed. Jack is five and he narrates the book. I think this was a brilliant choice on Donoghue's part, because hearing this horror story through the eyes of "Ma" would probably have been too much to bear. The innocent goggles of a child make things tragic and yet, in a way, hopeful.
4. The Fault In Our Stars by John Green. Teenagers with cancer! Watching mere children face down their own mortality won't tear at your very soul or anything. Young love cut tragically short by disease won't make you bawl your eyes out. Living with a debilitating illness that is slowly eating your body from the inside when you should be out shopping for prom dresses and going through your angsty phase in giant baggy pants won't mar your psyche! So heartbreaking. So good.
5. Smoke Over Birkenau by Liana Millu. Talk about the tough stuff. It simply does not get any "tougher" than books about the Holocaust. There are a lot of books on the subject, and I've read a number of heart wrenching personal accounts. It's difficult to pick just one, but since I really have to pace myself on reading these (so I don't get overwhelmed by humanity's ability to inflict horror on itself for incredibly stupid reasons) I thought it might be overkill to fill this list with Holocaust books.
6. Every Last One by Anna Quindlen. Whooo boy this one's a doozie. Depressed teenagers. Eating disorders. Young love denied. Unbelievable acts of violence. Dealing with the aftermath. This is a draining read, but it's really well done. Sure, it feels a bit like you're being stabbed in the heart with a dull spoon, but it's a good pain. It's NOT a true story, thank God. At least you can tell yourself that when you're sobbing into your pillow…
7. Are You There God? It's Me Margaret by Judy Blume. I don't care how open and honest and cool you are with your kids. It is awkward as heck to discuss periods with your prepubescent daughter (this, coming of course, from a former prepubescent daughter. The thought of having this conversation with my own offspring makes me preemptively uncomfortable.) Thank GOD for Judy Blume. Thank GOD for this book. That GOD it existed when I was 12. Margaret made all the late bloomers out there feel less alone. Thank you, Judy Blume, for being awesome.
8. Still Alice by Lisa Genova. Yeah, it's tough to be a teenager, Margaret, but it's even tougher to be an adult with early onset Alzheimer's disease. As you follow Alice's mental decline you feel her frustrations and her anguish, as well as her moments of hope and triumph. It's a beautifully rendered story, and it will make you keenly aware of your own precarious mental state. You may want to order a lot of fish oil caplets or whatever antioxidant thingies they have on the market today that are supposed to help keep your brain going strong to old age and beyond…
9. Middlesex by Jeffrey Eugenides. What would you do if the most basic part of your identity, your biological gender, were called into question? Our protagonist is raised as a female but due to a gene mutation, she's biologically male… At least, mostly. A coming of age story with the added bonus of some sweet historical fiction elements plus all the psychological turmoil that goes on when a person doesn't fall neatly into a gender category. Powerful.
10. Girl, Interrupted by Susanna Kaysen. Forget everything you saw in that movie. I don't care if it won Angelina Jolie an Oscar, the book was MUCH better. It's Susanna Kaysen's true life account of her time in a mental hospital. I read this a long time ago, but there was one part that seriously resonated with me. Kaysen described her descent into crippling depression as the world slowing down and time crawling by. She said that there were two ways to go crazy- for everything to slow down or for everything to speed up. I've always thought that if I ever needed to be institutionalized, it would be due to the super fast worst-case-scenario in flashes of horror kind of crazy, at which point my brain would completely short circuit and the slow would set it. It probably says a little too much about me and my mental state that I've given this so much thought, but you know. I'm bad at lying.
So Bookworms, tell me. What are your top picks for books that deal with the tough stuff? I'm all ears (at least until my psychotic break, but I think we've got some time.)