Hi Bookworms!
For this week's Top Ten Tuesday, the ladies at The Broke and The Bookish have asked a very important question. What are the top ten series you'd like to start that you haven't yet? Admittedly, I had a tough time with this category. Most series that I'm interested in, I've already started and/or finished. Luckily, I have fabulous friends who don't mind me whining to them when I can't think of anything to blog about. I shall dedicate this post to Lauren and Chrissy for helping me compile this GLORIOUS post… Allow me to direct you to THE LIST!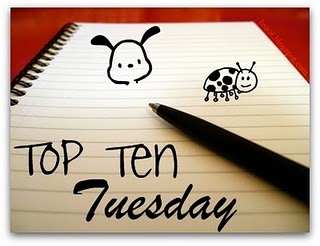 1. Lord of the Rings by JRR Tolkien. Oh yeah. I'm procrastinating. I know I should start it, I just can't get my head into that fantasy space. It was a New Year's Resolution. It's only March. Plenty of time still. (Yes Chrissy. I know. I know I should just get on with it. Now shoosh.)
2. Divergent by Veronica Roth. What can I tell you? I cannot get enough dystopian teen fiction. I've got a fever, and the only cure is more cowbell post apocalyptic teen angst!
3. The Passage by Justin Cronin. Zombies meet vampires in a tale of human devastation?! Sign me up! But… I'm going to wait until after Daylight Savings Time because I prefer to read about terrifying things with natural light. You can't be too careful!
4. The Walking Dead by Robert Kirkman. I love the show so much I really should read the comics. I know they're very different from the show, so it'll be a whole new way for me to appreciate the zombie apocalypse. Zombies are indifferent to light and dark, so DST won't save me here.
5. Discovery of Witches by Deborah Harkness. Witches and vampires and such? I can get down with that. Actually, I've heard a lot of good things about these books, so I'm intrigued.
6. Lonesome Dove by Larry McMurtry. Westerns aren't normally my thing, but I really like historical fiction, and Lauren swears by the Lonesome Dove books. If it turns out I hate them, I'll hold her completely responsible, stand beneath her window in the night, and yodel in retribution. (I can't yodel. It will be very punishing.)
7. The Magicians by Lev Grossman. Obviously I'm in the mood for supernatural hijinks. But the last book I read about magicians was so dang MAGICAL. I mean, hello, The Night Circus!
8. North & South by John Jakes. Civil War drama! I'm guessing sort of like Gone With The Wind minus Scarlet, which is awesome, because I spent an awful lot of time wanting to punch Scarlet. All good books have someone you love to hate in them, though, so I'm sure this will be no exception. I look forward to meeting my next favorite frustrating character!
9. The Chronicles of Narnia by CS Lewis. Don't get your undies in a twist. I have read The Lion, The Witch, and The Wardrobe. Twice even. I also read The Magician's Nephew. I ran into trouble when I hit The Horse and His Boy. I got halfway through that bad boy and decided to take a break from Narnia… I've yet to return.
10. Ender's Game by Orson Scott Card. I read and enjoyed Ender's Game (well, I DID have some trouble with my crappy spacial reasoning skills imagining all the interplanetary zero gravity training scenarios… But that's minor.) I just haven't delved into the 80 thousand sequels/parallel series.
What about you, Bookworms? Do you enjoy reading series? Do you prefer your books to stand alone? I'm interested. Talk to me!