Hola, Gusanos de Libros!
I just spoke SPANISH. Badly probably. Whatever. Today is Tuesday which means… TOP TEN TUESDAY with The Broke and The Bookish!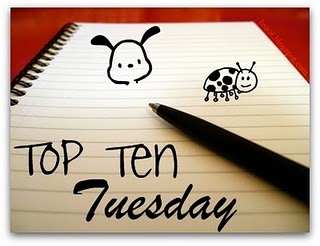 Since Valentine's Day is right around the corner, today's theme is, appropriately, Top Ten Romances (ooh la la!) <— See that?! FRENCH! Without further ado, I shall list for you the Top Ten Greatest Romances in the History of Literature… And Time Eternal. (I have a flair for the dramatic.)
1. Jamie and Claire of Diana Gabaldon's impossibly wonderful Outlander series. If this were a contest, they'd have out romanced everyone else on this list because no time warp, monarchy, bodily attack, war, illness, or kidnapping can conquer them! (They are remarkably difficult to kill off, I must admit.)

2. Elizabeth Bennett and Mr. Darcy of Jane Austen's Pride and Prejudice. It's a truth universally acknowledged that this is one of the greatest love stories ever written. It's like the loose premise for 90% of romantic comedies for a REASON, people!
3. Gus and Hazel of John Green's The Fault in Our Stars. Go ahead. Try to read this story about teen love and cancer and not cry. I dare you!
4. Ron Weasley and Hermione Granger from (obviously) JK Rowling's Harry Potter series. You know you were transported back to your high school days when Ron didn't ask Hermione to the Yule Ball. You know you loved their breakup and reunion in The Deathly Hallows. You know you completely dug every millisecond of their happily ever after. Hermione, the idol of every bookish girl. Ron, the ultimate underdog. It's a thing of beauty.
5. Jane Eyre & Mr. Rochester in Charlotte Bronte's Jane Eyre. Yes. I KNOW Mr. Rochester kept his crazy wife in the attic. I KNOW he was an attempted bigamist. But I also KNOW that he loved Jane, and she had a big enough heart to forgive him… Eventually. Talk about overcoming obstacles y'all. I bet you never had to deal with a crazy wife in the attic!
6. Achilles and Patroclus of Madeline Miller's Song of Achilles. There was so much beauty in the love story of Achilles and Patroclus! Achilles' mean ass sea nymph mother didn't approve of his loving another dude, but that didn't stop them. My heart shattered into millions of pieces at the end of this book (that's so not a spoiler, it's Greek mythology y'all.) Great romance. Seriously.
7. Jacob and Marlena of Sara Gruen's Water for Elephants. Marlena was married to the violent and mentally ill August, so for a time, she and Jacob admired each other at arm's length. August's violent behavior drives Marlena out of his arms and into Jacob's. The only thing that could make this romance better would be a murder mystery where the perpetrator was an elephant. Oh, wait…
8. Henry and Claire of Audrey Niffenegger's The Time Traveler's Wife. Be still my heart! How can you compete with love that transcends time?!?! How? You can only beat it if your love ALSO transcends time, plus a bunch of other crazy circumstances (cough cough Outlander.) So basically? This is awesome.
9. Bridget and Mark of Helen Fielding's Bridget Jones' Diary. A (very) thinly veiled homage to Pride and Prejudice, Bridget's awkwardness is impossibly endearing. Every girl who has ever been single and/or done something embarrassing can relate. Every man who has ever worn bumblebee socks at the behest of his overbearing mother can also relate. I'm not sure that last part happens that often, but still.
10. Celia and Marco from Erin Morgenstern's The Night Circus. Marco and Celia aren't just star-crossed lovers, they're MAGICALLY star crossed lovers. They're locked into a battle neither of them chose. Little do they know, as their love progresses, that the only end to their "feud" is that one of them must perish. Ah! It is so sad! And yet, it is so magical. It conjures up all the lovey feelings one can feel!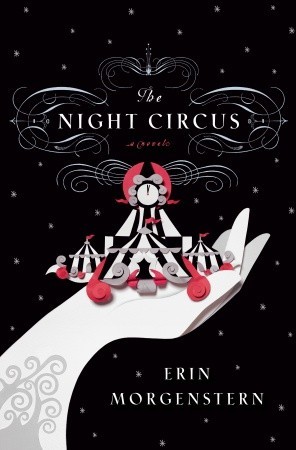 So, Ratas de Biblioteca (PORTUGUESE!), what are some of your favorite romances? Hearts and candies and flowers and sappiness! Tell me all about it!