Good Morning, Bookworms! I hope you all had a fantastic holiday weekend! In case anyone reads this who is not in the USA, this weekend was Labor Day, where Americans celebrate ye olde working stiffs. Once a year we all pay tribute to the laws that keep children out of factories and give us weekends. Huzzah! Now, as much as we may honor those who work for a living, there isn't a single one of us who hasn't thought at some point, "dang it all, I want to run away and join the circus!" (Maybe it's not the circus for everyone, but if people are willing to applaud looking cool in a tutu and doing poorly executed cartwheels, I'm a shoe-in for the acrobat job…)
The Night Circus by Erin Morgenstern takes you on a magical journey through an enchanted circus. This book falls into the magical realism category, but don't be discouraged if fantasy isn't your thing. This book has plenty to offer.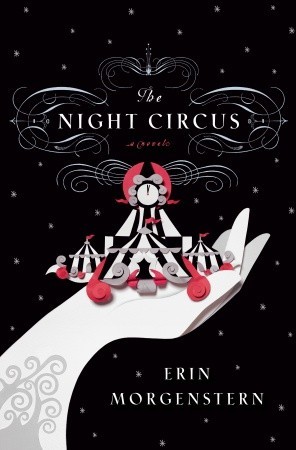 The Night Circus begins with two mysterious old magicians. They each choose a young pupil to begin training for an epic battle of magical wits to prove with of the two old men is the better magician. Why not just battle each other one on one? I don't know, I supposed they have  a penchant for ruining young lives. Besides, when you're ageless (which these two appear to be) you have to find ways to amuse yourselves, and hand-to-hand combat gets old after a couple hundred years.
It is determined that the "arena" for this magical battle will be a circus. What better way to disguise from the world that you're having a magical war than to invite the public in to watch. Seriously. You expect to see the unbelievable at a circus, but if you're just walking down the street, you'd be pretty suspicious of the elaborate display of bouncing clouds. This isn't just any circus though. It's a circus that arrives in towns without notice and is only open at night. It's all spooky and mystical and delightful that way.
Anyhow, eventually the two magic pupils realize who they are competing against, which sucks for them,  because they've fallen in love. The only way the "battle" ends is for one of the magicians to die. As you can imagine, years or putting together spells and holding up elaborate illusions wears one  out, so the couple faces a real dilemma. They can't keep up the competition indefinitely. I won't spoil the ending for you, but it's a bit of Romeo and Juliet with a dash of Tuck Everlasting and a pinch of Harry Potter.
What I liked best about this book was Morgenstern's imagery. I could see the black and white striped tents appearing unannounced in a field. I could visualize the exquisite clock that was the circus's centerpiece. I could smell the food, taste the caramels, appreciate the wonder that the circus provided its patrons. This book is great escapist literature- I recommend it if you want to take a hiatus from real life.
So Bookworms, if you were to run away from reality, where would you go? Anybody joining me in the mediocre circus?